About TimeShard & Some History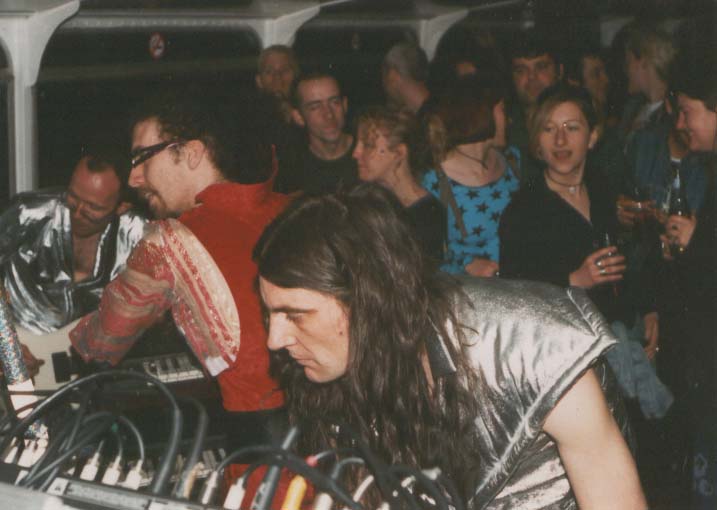 Time Shard were innovators in underground UK electronic dance music from 1988 to 2000
TimeShard were comprised of Steve Angstrom, Psy, and Gobber .
During their first five years Gobber, Psi and Angstrom became known as one of the UK's first live 'acid house' acts, during this time they developed a sound which (later) became known as Psychedelic trance although at the time they were often described as producing Ambient or Shamanic Trance music.
Their early music was a synthesis of dub with the pulsating sounds of Kraftwerk and on slower pieces the influence of Brian Eno is in evidence. Their signature sound of analogue synthesizers, sequencers and drum machines overlaid with glissando guitars and an electric sitar player became popular as music magazine publishers struggled to deal with the new rift between rock and roll and the burgeoning house music. Time Shard built a devoted following among the mixture of punks and Acid House followers which flocked to Britain's fields during this period.
Their initial successes were on the UK's free – festival circuit, which was in a period of transition and fusion as acid house fans found a place to dance (initially) without restriction, outside mainstream club culture, which had yet to develop the 'superclubs' such as Cream.
In later years (1996 onwards) they fell victim to the UK's criminal justice bill which killed many venues and free festivals, this, combined with troubles at their record company (Planet Dog) led them to take to the web, releasing a few early internet tunes in '98 before disbanding in Y2k.
The three got together to experiment sonically in 1988, Sharing a common interest in creating a new kind of "shamanic trance music" with tapes loops, and synthetic noises. An audio collage of found sounds from radio and film, edited sounds over burbling distorted rhythms to create a new kind of mythic music concrete. TimeShard wanted to explore the untapped potential in creating a new kind of psychedelic state. At the time technology was considered "cold and impersonal", far from magical. TimeShard saw that the crystals which drove much of this equipment could have a deep power to inspire, and to conjure something new, something weird and powerful.
The live electronic music scene of 1989
At that time the new music of "house" was finding a home in the UK . The underground rave scene was growing and Acid House was brand new and about to collide with the psychedelic punk of Squat Rock.
TimeShard was born out of the UK Free Festival scene where the ramshackle P.A. systems built to pump out a mix of punk, psychedelia and dub but were soon being repurposed to belt our the new electronic music. So, TimeShard were a bridge between the two worlds.
There was no fixed idea of what an electronic live act might be, as House music was a studio creation and nobody had any idea what it might be like as a live music or a performance. There was a lot of freedom as there were no rules.
The live electronic performance scene grew exponentially and sub genres didn't exist in this amorphous cloud of creativity. There were many bands who were highly experimental, each trying new ways to take electronic music onto the stage. No method was fixed, and rules were non-existent.
Ancient Technologies, ancient times
Timeshard began borrowing technology and recording whatever was to hand. Toy keyboards, records from charity shops, editing tape loops and picking up synth bargains with their meagre cash.
There was no intent to make "dance music" but rather to make sound collages and trance inducing noises. TimeShard were influenced by bands as diverse as The Residents, Can, Tangerine Dream, Magazine, Faust, Adrian Sherwood, Brian Eno, Tim Blake … to name a few.
TimeShard experimented with tape, borrowed multitracks, cheap downtime in local recording studios, borrowed synthesizers and in the first couple of years performed some very strange dub inflected trance music for confused listeners.
The now-classic dance music technology was still fresh raw and new. The classic "vintage" drum machine the Roland TR909 was only 3 years old when TimeShard began. The first affordable sampler the Akai S900 was only one year old. The acid house synth the TB303 was only 4 years out of production. Electronic dance music was the music of cultural, spiritual and technological reclamation. Fertile ground for lawless exploration. Perfect!
Early Cassette Albums (1990-1994)
TimeShard released their music on cassettes and sold them through mailing lists, and by 1991 had built a following for their live performances.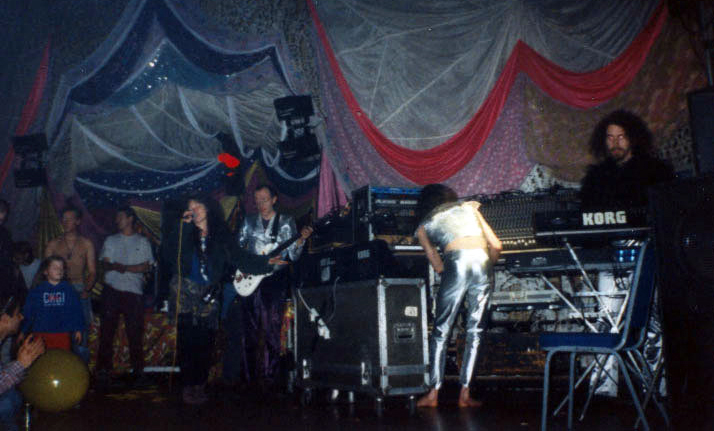 Crystal Oscillations (1994)
Liverpool dance music shop and record label 3 Beat offered the Shardies a chance to record an album and release it on vinyl and CD, so a deal of some kind was signed and the three hairy weirdos and their friend and manager travelled down to London to record in a state of the art recording studio. Peer Music Publishing (the Publishers of Timeshard) had their own studio and it was a hit factory for all kinds of top chart acts. The Shards had the night shift, from 8pm till 8am. A week in the studio cost a bunch of money so the whole album was recorded in 5 nights.
To add a little bit of spice the band decided to write two of the songs in the studio, which came as a surprise to most people involved. Title track Crystal Oscillations was one of these two which were jammed out on the spur of the moment.
The poor engineer and producer nearly had a heart attack when the band decided to create the song on the spot – understandable because the tight schedule required two songs to be recorded and mixed each night, so writing two new ones was really putting that deadline under pressure! Somehow it all worked out.
Planet Dog
Though local label 3Beat had paid for the recording of Timeshard's Crystal Oscillations album and they enjoyed TimeShard's unusual beats and psychedelic influenced noodlings – 3beat was a more normal dance label favouring charty dance.
Lucky for everyone that Gobber's time running sound systems put in in touch with the members of Eat Static and their friends at MegaDog – and right at the perfect time DJ Michael Dog had decided to start a label to release the sounds of that unique festival-influenced scene.
Michael invited the TimeShard crew to London, the headquarters of Planet Dog/Ultimate records, to have a chat about releasing the psychedelic electronic Crystal Oscillations album because we all knew it would fit much better within the Planet Dog and Megadog family.
A handshake and few joints later and the whole gang were off on a Planet Dog adventure. Releasing Crystal Oscillations on the Planet Dog Records / Ultimate label in the UK in 1994, and on Mammoth Records in the USA in 1995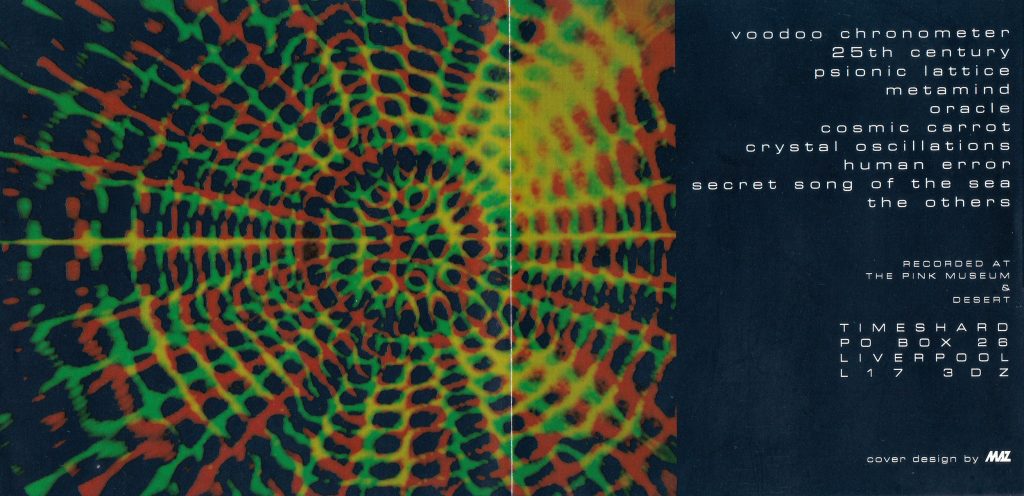 So, Timeshard exited 3-Beat records and Crystal Oscillations was released by Planet Dog records.
Touring and gigs for a decade
Timeshard took to the road for most of a decade, gigging across Britain, Ireland, France, Holland, Belgium and the rest of Europe. Spending life in the back of a van covering many thousands of miles, most often sleeping on the floor of a promoter's house. Having lot of fun performing to crowds who thankfully loved the strange thumping psychedelic trance and also the band's increasingly weird stage outfits
What Happened to TimeShard?
Planet Dog had some trouble and was forced to close, so TimeShard experimented with releasing compilations of local electronic bands alongside their own music ( Hard to find: "Now what kind of music do you call that Vols 1 & 2") , and also still performing live.
Gobber had always run his sound system, using his mixing expertise to put bands on stage, so began to focus more on that. Psi and Angstrom had become captivated by the (then new) technological marvels of the internet and wanted to investigate an online creative venture like animations, game music, online performances. In 1998 that was a difficult goal to reach!
Current times – where are TimeShard?
TimeShard remained friends and saw each other every now and then, but unfortunately in 2021 Gobber passed away.
Gobber was making music and occasionally giggling under the name "Monsters from the Id" and putting on events, or jamming with his vintage stack of synths in the studio making space noises.
Psi strums a guitar occasionally but no longer releases music and he works within the internet, moving electrons around.
Steve Angstrom still makes music and releases it, and talks in the third person in a very dis-concerting manner. He has a website at https://angstromnoises.com with music, and some tutorials for making synth sounds and songs.
Will TimeShard ever reform & play a gig?
It was always unlikely, as we talked about it and each member had reasons not to. Though we'd still chat amiably about the old gigs, and have a laugh about the various things which happened, but to put the band back the way it was would be like rewinding time, and we all know that's not possible … right? Naturally with the passing away of key member Gobber the chance of a reformation is gone for good.
Steve Angstrom still performs live and has been known to slip a TimeShard track in. But TimeShard were a unique combination of time, place and people. That combination cannot be recreated.